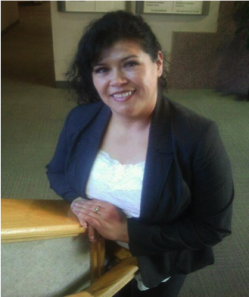 Araceli Barriga/Solis was born December 27, 1966 in Mexico. Education U.N.A.M. Business Administration Parents: Martha viuda de Solis, Raul Solis Magaña Siblings: Mario, Alejandra, Ramon, Yolanda, Laura/Solis
Araceli Barriga is the mother of 3 kids she moved to the United States in 1987 and has been living in California since then. She is a Special Needs Advocate and attended several trainings and workshops regarding special needs in California from Autism Spectrum Disorder, Educational Therapy and Special Education Advocacy.
Special Education Including Relating Services, Discipline, Transition, and Juvenile Justice Issues – Disability Rights Legal Center & Education

Advocacy Project – January 31, 2009

Learning Rights Law Center: The Special Education Advocacy Boot Camp – Janeen Steel, Esq. & Ines Kuperschmit, Esq. from Los Angeles Learning Rights Law Center – summer 2009
Inland Empire Disabilities Cooperative Advocacy Conference – California Baptist University – October 10, 2009

4th Annual Anaheim Autism/Asperger's Conference of America: Planting Seeds of Knowledge – Anaheim, CA – February 6 & 7, 2010
Disability Benefits 101: SSDI Work Rules Close Up – Inland Regional Center– June 27, 2009
Lake Elsinore City Council Proclamation for Recognition of Autism Awareness – April 14, 2009
Riverside County Fiesta Educativa annual Conference-February 18, 2013
In 2012 she graduated at Marymount University in Los Angeles she completed the first level of Training Individuals for Grassroots Education Reform. She is currently attending the last level at Learning Rights Law Center in Los Angeles.
She has different hobbies; horseback riding and gardening are some of her favorite. In her spare time she enjoys working out at the gym and spending time with family, friends, and animals. Araceli is a proud Mother of a child with special needs.